Tuesday, October 19, 2021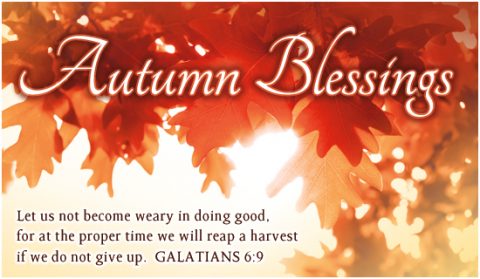 Friday Sunset 6:11 pm  -  Saturday Sunset 6:09 pm

ORCAS ADVENTIST FELLOWSHIP
Sabbath School: 10:00 AM
Church Service:  11:00 AM 
Speaker: Kallie McCutcheon
Elder in Charge:  Tom Roosma
No potluck this week
 
FRIDAY HARBOR ADVENTIST CHURCH
Sabbath School: 10:00 AM
Church Service: 11:00 AM
Speaker: 
Potluck following church service
Tuesday Evening Bible Study and Haystack Supper will meet this week at Parnell's home from 5:30–7:30 PM.  Everyone is welcome. For more information call (360)376-4595.
Friday Harbor Church Board will be meeting on Thursday, October 21 at 6:30 PM.
FRIENDSGIVING IS BACK!  Sabbath, November 20 at 4:00 PM at the Parnell home.  Dawn is making up the menu now, so give her a call at 360-376-4595 to let her know what you would like to bring.
Talk to the Pastor  Office hours in Friday Harbor are on Wednesdays from 11:00 AM to 1:00 PM.
Prayer Requests  Email your prayer requests to Mike Parnell by Friday evening and a list will be compiled for Sabbath morning's prayer time.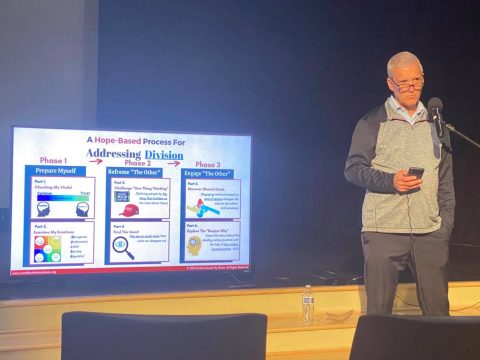 Carl Wilkens from "World Outside My Shoes" organization presented a series of "Addressing Division" seminars in the San Juan Islands on October 6-10.  Carl met with students and teachers at OCS, Lopez Christian School, Lopez High School & Middle School, and Spring Street International School. He presented a 3-day series of seminars to community members at the Lopez Island Community Center and at Mullis Center in Friday Harbor.  A big thank you to Carl Wilkens for coming to the islands, and to Glenn Aufderhar for organizing and spearheading these events. 

From Pastor Grayson:   
Over this weekend we had a great time with Carl Wilkens, who presented lessons he has learned during and after his time in Rwanda. Carl shared the mission God placed in his heart that led to his decision to stay and support at first his close friends and family, that led to him working for orphans and families all over Rwanda. He shared lessons on the impact those moments and the ones following the end of the genocide and how they have taught him about healing and reconciliation. Through a vulnerable and honest presentation, he translated his experience to something that spoke to the core of all who were there.
One of the more powerful ideas that stuck with me was the concept of "we are more than our worst action". Which implies that even at our worst, we don't have to let those moments completely define us. Another was a confirmation that having a understanding of the identity that God has for each one of us, plays a role in our ability to thinking logically. The quote that concedes with this idea is " We are not logical beings with emotions. Rather emotional beings, who can think logically when our identity is clear."
I appreciate Carl and all our guests who made this weekend special. I am sure all that attended have a renewed spirit to rebuild broken bridges in our lives and communities. To find those in isolation and bring them into a community that does what it can do to work around division and live in opportunities for healing. To break through cycles of violence, ignorance and pettiness. To bring the LOVE of God into our presence and change our community for the better.

Orcas Bible Study & Dinner this week is on Tuesday evening 5:30-7:30 PM at Parnell's home.
Lopez Bible Study will meet on Wednesday, October 20  at Aufderhar's home at 7:00 PM.
Friday Harbor Study Group will meet on Wednesday night at 6:30 PM.
Meal and Book Discussion at the Friday Harbor Church each Friday beginning at 6:00 PM.

A Weekly Calendar of Conference Ministry Events

News from North Pacific Union Conference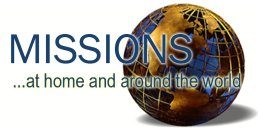 Mission Story from Mongolia:  "Three Mysteries"    
The 4th quarter 2021 offerings support the Northern Asia-Pacific Mission

October Birthdays
Catalina Kohring Wood 5
Steven Smith 5
Sharon Bereitschaft 11
Alicia Susol 14
Wren King 15
Krista Abaya 17
Virlinda Foster 18
Debbie Randall-Liblik 18
Elliott Claus 29
Edward Rivera 31
Ferry Schedule in effect October 11, 2021 to January 1, 2022  (Subject to change)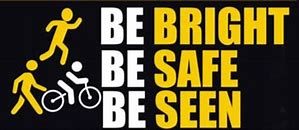 HEALTH NOTE
by Sally Coffin, R.N.
Being Safe Means Being Seen
I've often come upon a cyclist, hitchhiker, jogger or someone walking along the road and been startled by how close I've come to missing them in the darkness of night or the glare of headlights on a rainy evening.  As is the case on our rural island roads, there are no walkways and the roads are often quite narrow.  We need to be seen to keep ourselves safe!  Many serious accidents happen because drivers do not see other road users until it is too late.  The following are some safety tips for keeping yourself safe along the roadways:
During the day always wear right clothing or carry something with bright colors – fluorescent materials are even better as they help you stand out during the daylight hours and in the evening before it turns dark.
Wear something reflective so you can be seen when car headlights are shining towards you. Even a small patch of reflective material can help drivers see you from very far away
Always carry a source of light with you- a flashlight is good, a cell phone will do in a pinch!  It provides safety on two counts.  First you will be able find your way along the road and secondly you will be seen by drivers as they come along
Sally Coffin, RN
Parish Nurse
THE WEEKLY NEWS WELCOMES YOUR NEWS!
PLEASE EMAIL IT TO SALLY OR ROCHELLE BY MONDAY NOON.